Founder of Konst Research
The roots of Konst Research lie in the Haarlemmermeer, a polder close to Amsterdam. Here Johannes Könst began his potato breeding company in 1932. His aim was to develop potato varieties which:
give larger crops
are resistant to disease
meet consumer requirements
In 1947, Johannes marketed the first variety developed by him: the Meerlander. A strong and floury potato with a good crop for those days. As the international demand for the legendary Dutch seed potatoes grew, Konst Research started to focus more and more on the export market.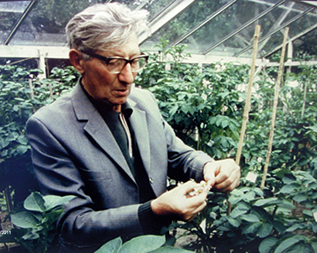 Johannes' sons Peter and Vincent took over the independent family firm in 1992. Together with three breeding specialists, they meet the changing wishes of consumers and the new processing methods, cultivation technology and growing regions. Konst Research has developed 12 successful varieties since 1932. "We are proud to continue the quest for new varieties. It still is a challenging and marvellous profession in the potato world."